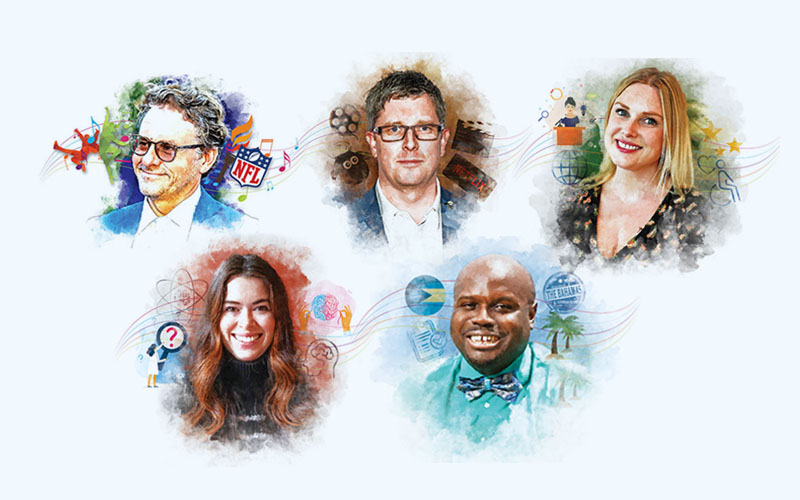 In profile
Timothy Durant, BA English Literature 1994
Paul Kewley, BSc Natural Environment Science 1993
Laura Winson, BA Sociology 2004
Ellie Morris, PGDip High Intensity Psychological Interventions 2022
N. Charles Hamilton, Master of Public Health – EuroPubHealth + Program 2019
---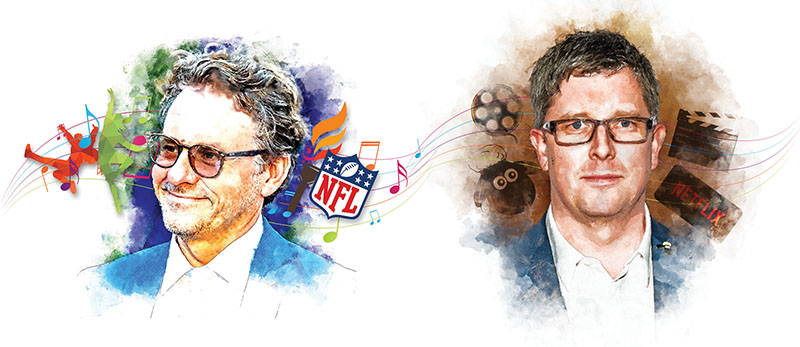 Timothy Durant, BA English Literature 1994
Award-winning designer and producer of live experiences, including Olympic opening ceremonies, halftime shows and music tours. Tim has worked with the NFL, Neil Diamond, Paul McCartney and Bruno Mars, to name a few.
Paul Kewley, BSc Natural Environmental Science 1993
Award-winning film and TV producer, Oscar, BAFTA and Golden Globe-nominee. Paul has worked with Aardman Animations, Illumination and Netflix – winning an Emmy for Shaun the Sheep: The Farmer's Llamas.
TIM – I came to Sheffield University twice; the first time in 1989. But I wasn't ready for it. I left and took a couple of years off – mostly exploring film and architecture while living in Edinburgh. I'd fallen in love with English and photography, so when I came back in 1991, I found myself exploring both of those subjects. Sheffield was very much the 'crucible' of the creative me. It was a kind of awakening.
PAUL – Yes, it was the same for me. I'd produced live TV before uni, so when I learned Sheffield had nothing extra-curricular for TV or radio, myself and a guy called Dave 'Spoon Chicken' Simpson naively decided to start the Radio and TV Society. By the end of the Freshers Fair, ours was the second biggest society in the Union. And Tim was one of the first people who signed up. It was Dr Patrick Courtney, AKA Pik, who suggested a radio station and encouraged us to get a thing called a restricted service licence: try it, see how it goes, use that as a kind of bridge into other things. And Mr. Durant came up with the name 'Forge'.
TIM –  …though I never got any royalties, it definitely was a bridge. It got me my first trip to the U.S. They kindly sent me over to the College Music Journal Festival in Providence, Rhode Island. And I remember thinking 'you know what, I should probably move here.' It opened up a whole world for me that I hadn't considered. So later, after I'd graduated, and studied for an MA in Film and TV at the British Film Institute, I turned my sights back to America. Of course, Paul was already there.
PAUL – The Peter Stark Program at the USC School of Cinematic Arts was my first taste of America. I'd applied for a Fulbright Scholarship and – with a bit of help from BUNAC and Yorkshire Television – found myself in Southern California. It was a total gamble. I was just following my heart. Tim followed me two years after that, also as a Fulbright Scholar, and we became housemates for a year.
It took a long time to get to a point where I could actually say I was a film producer. I'd sell scripts, set them up with studios, develop them, and then some terrible tragedy would befall the project, just as I thought it was about to happen. That's basically the way the film world works. Though I learned a lot, and had some success on the way, too. Then in 2009 Aardman Animations offered me a job as a Development Producer (I had no idea what that meant and I don't think they did either). I produced the Shaun the Sheep movies, among other projects. And until recently I've been working for Illumination… So, if you'd asked me when I was at Sheffield, what am I gonna do when I grow up? I probably wouldn't have said producer and I definitely wouldn't have said animation. But that's the great thing about university. It opens you up to so many different possibilities…
TIM – Yes, it's really just about learning some skills and exploring your interests, and learning who you are. English taught me how to think, how to read a text. Working at the radio station and with the film unit, I learned about promotion and graphic design. After I graduated I worked for Propaganda Films – a leading music video and commercials company – doing a lot of motion graphics for them. Then one day I ended up doing that on a music tour, and found my niche. Ever since then, I've been working in live events.
PAUL – If I was rigid, I'd have been looking for a job that was some rare combination of earth science and film. But at USC, we had classes from the Line Producer on Jurassic Park, and I realised that someone already had that job! When I'm in between projects, I'll often have to sit down and remind myself that it's ok to just go with it, and not be too fixated on what's next. That's the most important life lesson I learned at the University of Sheffield: just work hard, and go with it.
TIM – It's all about finding out who you are, and seeing where that takes you. Yeah, there'll be this disappointment here, that frustration there. But you just have to keep your eye on what you love. It hasn't been a straight road for me, but I can honestly say I wouldn't be where I am if it wasn't for my time at Sheffield.
---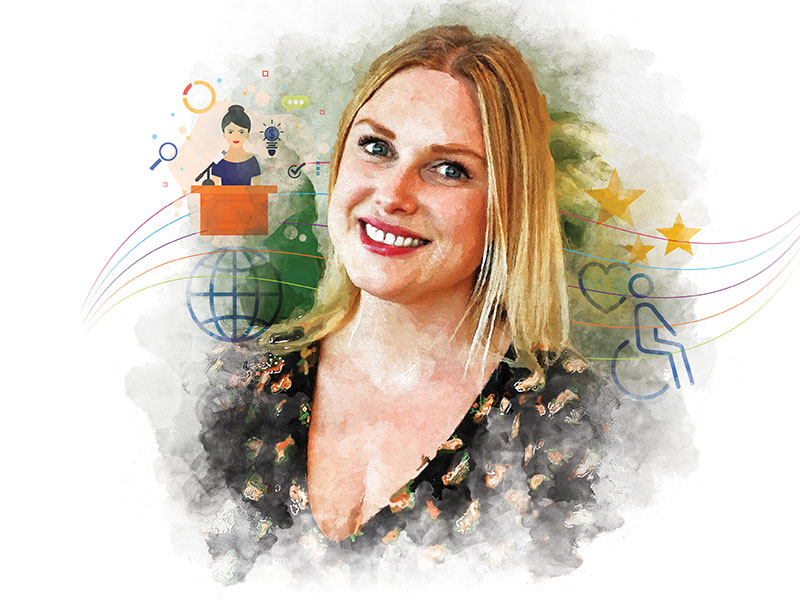 Laura Winson, BA Sociology 2004
Founder and Director at Zebedee, global talent management agency for disabled, visibly different & trans/non binary models & actors; Keynote Speaker, BFC Changemakers Award Finalist; Honorary Fellow, Condé Nast College of Fashion and Design.
Laura always had a passion for helping people, and a deep interest in the social sciences.
This combination of head and heart has guided her extraordinary and varied career over the last 20 years – from the University of Sheffield to founding the UK's first truly inclusive talent agency.
"Walking the city after the open day, I remember feeling that the place felt like home. And it's still home 20 years later. What I took from my time at Sheffield was how to think deeply about something, to explore a subject from all angles – something that's definitely stood me in good stead. When I graduated, I considered pursuing a social work qualification… but I felt I'd done enough study, and it was time to enter 'the real world'. So, I applied for a graduate management course, and spent three years in business and then later moved into recruitment.
With the benefit of hindsight, I can see I wanted to work with people and this was the first step into that. I enjoyed recruitment but ultimately it was obviously profit-focused – so I spent a lot of time volunteering with young offenders and at local youth centres. It was then I decided to study for my masters and moved into social work full time.
I worked in the leaving care team, and then in the early intervention team. I loved it and I certainly wasn't looking to change my career again! Then in 2017, I was on maternity leave with my first child, on a beach walk with my sister-in-law, Zoe. She taught young people with disabilities, and we were chatting about the lack of opportunities for disabled people in fashion and advertising. How was it that such a large section of society is excluded from the media? We looked at each other and both said: "Should we set up an agency?" A quick bit of Google research later and we were on the phone to Companies House. Then scouting for jobs, models and setting up a website a few days after. It really was that quick.
Finding models was the easy part. Zoe's performing arts pupils were our first models. We also knew there were thousands of talented, different people just waiting for the industry to give them the opportunity.
After around a year of literally phoning round, making connections, a magazine for people with disabilities ran a piece on us, and we appeared on This Morning shortly after. The floodgates opened and I decided to run Zebedee full time.
The real challenge for us has been educating the whole industry. Not only did we have to get our foot in the door, we had to change minds along the way. Everyone was talking about 'inclusion and diversity', but their definition didn't involve models or actors with disabilities. Today, we have offices in Europe, America, Australia and Japan. Things are changing slowly and I'm proud we've played our part in making that happen."
---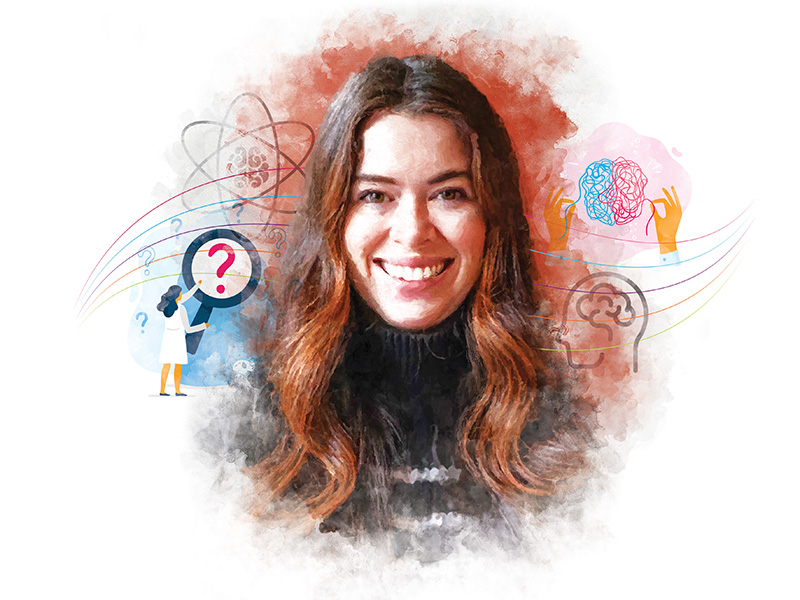 Ellie Morris, PGDip High Intensity Psychological Interventions 2022
Cognitive Behavioural Psychotherapist; Young Innovators Award Winner 22/23; Founder and Director of Fabulously Thriving, an organisation providing mental health support and community to women living with Complex PTSD.
From NHS mental health nurse to psychotherapist to agent for social change – Ellie's life and career have been anything but ordinary. Today, over two years after her own diagnosis, Ellie is building on her personal and professional experience to change the lives of women looking to heal from the effects of Complex PTSD and childhood trauma.
"I wouldn't say I consciously chose to work in mental health because of my own personal history. I've used mental health services since I was a child, though I kept that part of my life private while studying at college and university. I wanted to help people, and I found the subject interesting. Maybe I just didn't want it to define me.
As a nurse I often worked in GP surgeries alongside Cognitive Behavioural Therapy (CBT) practitioners. I was helping people, but felt I was only scratching the surface. I wanted to see that profound change which can only come with therapy. So, I decided to qualify as a CBT psychotherapist myself.
Sheffield is one of the top UK universities for this CBT qualification, and I was made up to secure a place. Looking back now, that year was incredibly hard. Covid was at its peak, and my week was divided between two extremes: two days online study, three days in a healthcare setting. But my tutors and the other students on the course made it an amazing experience. Practising therapy techniques on each other definitely brings you closer to someone so although we weren't meeting in person, it was still a strong support network.
Around this time, I was diagnosed with Complex PTSD as a result of childhood trauma. It's not a very well-known condition. It involves a lot of symptoms of PTSD, anxiety and depression, and because it begins in childhood it affects how your brain and body develops. It can negatively impact almost every area of your life – relationships, feeling happy, and holding down a job. 
I knew this all too well: I'd spent years trying to work a full time job, and here I was again, newly qualified and newly diagnosed, trying to help people as a therapist five days a week. I needed more control over my working week. And I knew the people I was working with needed something more than the 20 sessions available on the NHS.
That's when Fabulously Thriving was born. The name comes from my time at Sheffield. My tutor used to ask me how I was doing, and every day I would reply "surviving, not thriving." But everyone with Complex PTSD deserves to do better than just 'survive'. And the way to do that is to normalise talking about the condition. My plan is to provide accessible, affordable support for anyone who needs it – to challenge the stigma, and the isolation, by creating a big community of women."
---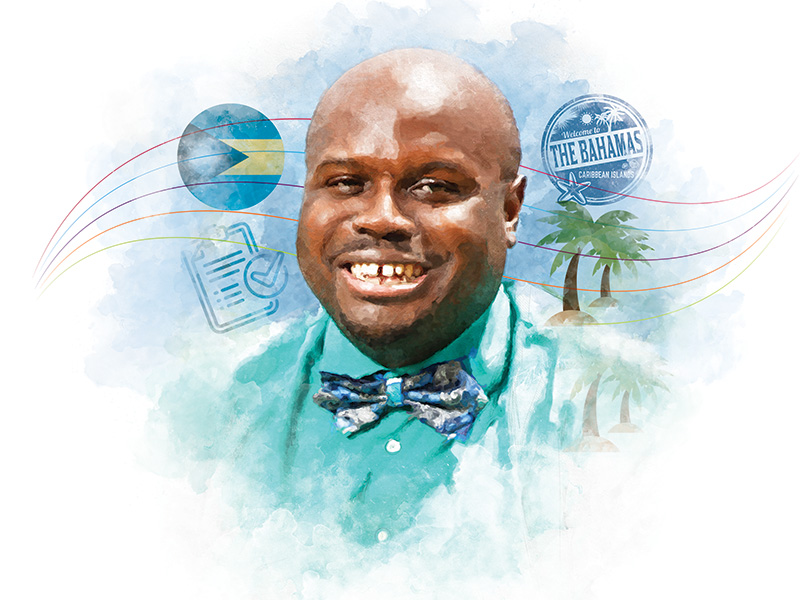 N. Charles Hamilton, Master of Public Health – EuroPubHealth + Program 2019
Advisor to the Prime Minister of The Bahamas; Climate change and public health policy specialist; Small island policy and health researcher.
Charles knows how to make real change happen for himself and for those around him. And he works fast – growing from his working-class roots to a policy specialist and now climate change advisor to the PM of The Bahamas, and all by the age of 33. His career is one built on hard work, passion and most of all being open to possibilities.
"To be in this position at my age… I consider it an honour. I'm humbled by it. Things have just divinely aligned at the right time – the priorities of the administration, my experience and my passion. That's how I got here I think. It started because I found something I was passionate about.
I don't come from a place of privilege. I'm black and from a low income family. It's taken me multiple scholarships, loans, and then two GoFundMes to finish my masters. Powered by the support of my friends, my family and even strangers. If anyone had said to me when I graduated that this is where I'd be in four years… I would have laughed.
And this is definitely where I want to be, though not necessarily what I aimed for. I always intended to return to education after completing my undergraduate degree, and a fellow Bahamian recommended EuroPubHealth+ programme. I knew people who'd attended the University of Sheffield. They raved about ScHARR, and its applied research had a great reputation. The values of the uni also resonated – how multicultural it is – and of course the tonne of nature that surrounds Sheffield!
I have so many memories of living on Rockingham Lane, and the 30-plus people in the programme who became like a close-knit family. In fact, I met someone who was to become my best friend when I began organising the first Sheffield World Health Organisation simulation – SheffWHO.
My time at Sheffield was hugely formative for me. The personal and the academic support I received to go beyond my limits is definitely a big part of why I am where I am, today.
From returning to education, to organising SheffWHO and beyond, every move I've made has been a leap of faith – but I've tried to be open to possibilities. You miss 100% of the shots you don't take, right? I think if you're coming out of uni now it's easy to look at the job market and think 'I need to jump into something or I won't be successful.' My advice is to pause and reflect on your strengths. I recommend working with your own hands, letting your talents make room for you. Sometimes you want a seat at the table, and sometimes you have to build your own table and bring people to it. We need more people to build their own table."