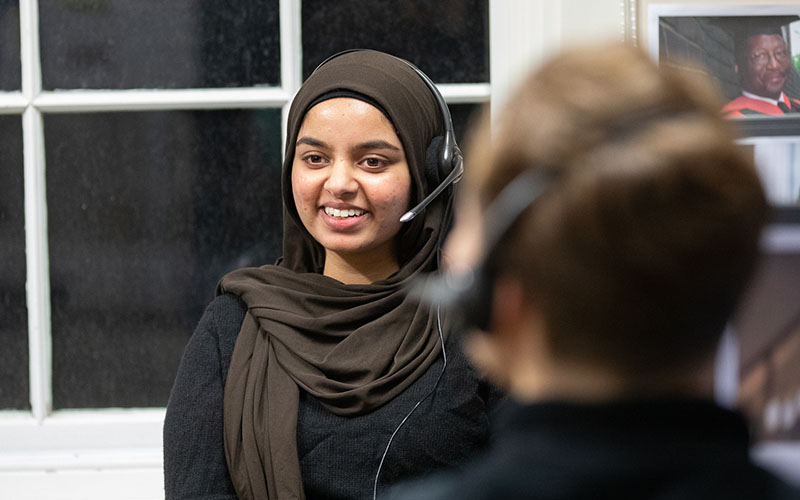 Hello, it's Sheffield calling!
Student callers have raised £1.5 million since 2003, simply by picking up the phone for a chat with alumni. Together, they've funded new facilities, scholarships, societies, and given students a lifeline during the pandemic. There's no doubt about the impact this has had on the University down the years. But 'calling' has also changed the lives of the student callers themselves. We caught up with four of them to hear about their experiences, what they learned during their time on the phones and where they are now…
The first word has to go to David Meadows (BA Business Studies 2006), one of the original Student Callers, and now a senior fundraiser at the University. Throughout his degree, David worked in the alumni office – he even did his dissertation on the calling team!
I'll never forget spotting that poster in the Students' Union next to a payphone. 'Get paid for talking to people?! I can do that.' I never thought it would shape my life and career. I'm still here 20 years later.
Though technically in the 21st century, the approach at first was old school: "Three or four of us, sitting around a boardroom table with a phone, and then just reams of paper, numbers, details and all the notes done by hand. Three hours is a long time to be talking and writing, so camaraderie was really important. We got each other through."
Freddie Winter (BA Accounting and Financial Management 2022) agrees: "It's the atmosphere in the call room that sets the tone for the calls. When someone has a difficult conversation with an alum, you pick them back up," he remembers.
"And the fundraising staff made it an incredible learning environment – they set us up to do our best on the calls. It's about much more than money, it's about building relationships."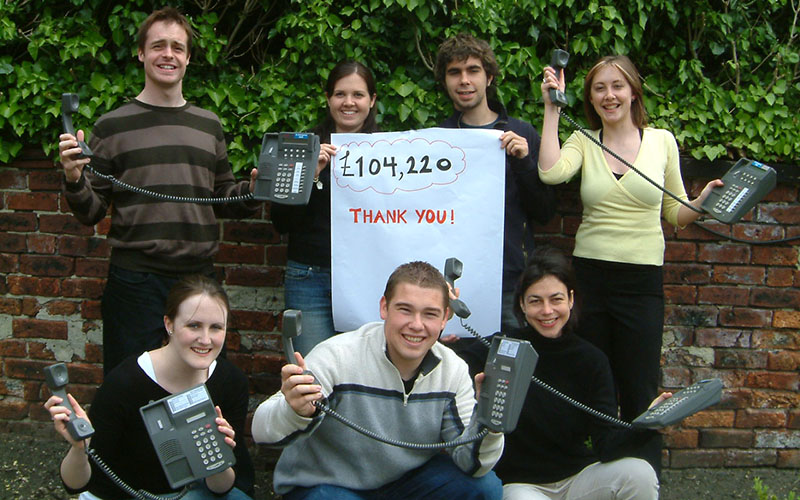 Strengthening relationships
If any one word defines the history of student calling at Sheffield, it is 'relationship'. Every student knows they're reaching out to someone who was in their position 10, 20, 50 years ago. Someone with a lifelong connection to the University.
Rosslyn Owen (BA English Literature 2011) explains:
Rapport is a huge part of what calling is about. Money is important and it's great if people want to donate, but our job was connecting to people and then bringing them into a community they might not have known existed.
As we know, relationships take time, which is why student callers are never told how long or short a conversation should be. "I was on the line with one elderly gentleman for over two hours," remembers Freddie. "He'd lost his wife a year or so before, and so I was one of the few people that he'd spoken to that week. Often, the calls that meandered in this way were the most rewarding, and the ones that stay with you."
It's something that resonates with David too, 20 years later. "His name was Mr Kibble. We connected through a love of rugby and before I knew it, he was pledging £1,000, which was the most I'd ever received. But the best part is, years later when I began working in the fundraising team, I got to know Mr. Kibble even better – I took him to experience baked beans on toast in the Students' Union and we went to a rugby match together."
Calling long distance
Students never make 'cold calls', because as alumni, there's always an existing relationship with the person receiving the call. Some people are still surprised to hear from us, especially if they're in a different time zone.
Calling America was always fun, generally there was this mixture of happiness and surprise. Some had only come for a semester, so it was only a small part of their lives but they were usually happy to give back. I guess Sheffield made a lasting impression.
"What sticks with me is the contrast," says Holly Wildish-Jones (BA Journalism 2015). "Chatting away to someone when it was daytime for them, and we'd just arrived in the call room at midnight wearing our pyjamas! We could get past that once we were chatting, especially because we could say exactly what the money would do, like paying for scholarships. That's what resonated, even across the Atlantic."
Real personal impact
Seeing the real impact of the money raised through student calling is what inspires alumni to give, and it's what keeps our callers motivated too. John Makin (BA Accounting and Financial Management 1993, MBA Business Administration 1996), one of our alumni donors, explains why: "When I made the decision to come to Sheffield, tuition was essentially free. This provided an equality of opportunity, and I want others to have that same opportunity."
Freddie also saw the personal impact, when making calls just after the wave of Covid-19 lockdowns. "The Student Hardship Fund was set up by the University because students' main source of income – part-time jobs in hospitality – was hit hard. Lots of people, including people I lived with, didn't have a safety net. So it was amazing to be able to do something about that, getting the word out to the alumni community and receiving donations I knew would go to people in the most need."
Careers from calling
Beyond the community and the philanthropy, the camaraderie and the decent wage, there's another serious benefit to being a Sheffield caller: career advice, on tap. "I'd ask alumni what they thought I should do as a career," admits David. "Having the opportunity to interact with hundreds of alumni, all from different generations, different courses, different backgrounds. It was priceless to have that kind of mentoring."
Just to learn that fundraising was a career was a real eye-opener. I was never going to be in a job that was process driven, or working off spreadsheets. I thrived on that relationship connection, and I've been enjoying a career in fundraising ever since.
David isn't the only one whose working life has been shaped by their student job. From transferable skills to career choices, the influence of their time in the calling room is obvious.
"I'm on a graduate programme at EY", says Freddie. "The ability to speak to someone I've never met and build a rapport from nothing is a skill I learned from calling, and I use it every day."
"I'm Senior Digital Campaigns Manager at the University of London," says Holly. "Calling was a really valuable experience that set me up for a 7+ year career in the sector. Apart from my first job, the whole rest of my career I've worked at universities, including at the University of Sheffield."
And Rosslyn, too: "It's become my career and I definitely credit my time as a student caller with making me aware that this world exists. I've worked across the UK as a fundraising consultant. And now I've come back to Sheffield, to work for Sheffield High School for Girls. I can see the benefits for students first hand, just like when I was calling."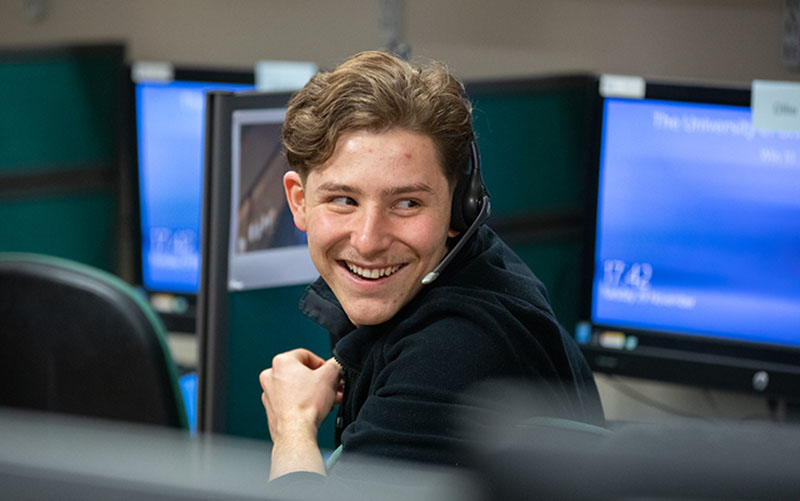 Take the call
Of course, as much as we have the callers to thank for the last 20 years, it takes two to make a connection. Every call answered by you, our alumni, makes a difference. John puts it best: "Take the call. Take the opportunity to discuss and understand why the students on the other end of the line are asking for your assistance. Support the next generation as best you can."
So with that in mind, we'll give the last word to David, too: "I can guarantee at the very least you'll have an authentic conversation with someone ready to soak up your experience, and even make a lasting connection. Who wouldn't want to take that call?"
Are you ready to speak to a student caller?
Let us know with a quick email to giving@sheffield.ac.uk and if you've already given us permission to get in touch, please make sure your contact details are up to date here.